Hair Growth Vitalizer Serum - 100 Ml
Regular price

M.R.P :

Rs. 449.00

M.R.P :

Regular price

Rs. 595.00

Sale price

Price : Rs. 449.00
---
✔ Promotes Hair Growth
✔ Reduce Hairfall
✔ Gives Strength & Shine
✔ Prevents Split Ends
✔ Controls Premature Graying of Hair

---
Estimated delivery : By -
Description

Trycone Hair Growth Vitalizer Serum – is formulated with Redensyl, Onion Seed Oil and many other Natural Actives which helps in promoting hair growth, reduce Hair fall, and prevents split ends and premature graying of Hair. Redensyl targets hair follicle stem cells that play a big role in hair regeneration and growth also controls hairfall. Onion seed oil has anti bacterial and anti fungal properties that cures scalp infections and makes your hair healthy. Biotin helps promote healthier looking and thicker hair in line with your natural hair growth cycle. Keratin and other vitamins help to make your hair soft, smooth, shiny and healthy.

QUALITY PRODUCT - Made from combination of Redensyl, Onion Seed Oil and other Natural Actives that are Premium quality ingredients without SLS, Paraben & Mineral Oil that'll give you the best quality products.

HAIR REGENERATION – Redensyl provides nutrients to your scalp and hair follicle stem cells that play a big role in hair regeneration and growth.

HEALTHY SCALP– Onion Seed Oil is rich in sulfur which prevents breakage, split ends and thinning of hair. Makes your hair strong and healthy.

STRENGTH & SHINE – Biotin, Keratin and Other Vitamins helps to keep our scalp and hair healthy which prevents hair fall, helps in hair regrowth and gives you strong and shiny hair.

USAGE -

Easy to use, for all skin types, No Side effects, Unisex (Made in India)
Key Ingredients

Redensyl – Redensyl results in quicker, stronger, and faster hair growth. It provides nutrients to your scalp and hair follicles and increases the blood flow to your scalp. Nourished hair follicles result in stronger hair strands. It also ensures stronger and thicker hair without side effects.

Onion Seed Oil – Onion seed oil has anti bacterial and anti fungal properties that cures scalp infections and keeps your hair healthy.

Biotin – Biotin (Vitamin B7) is well known for its positive effects on hair, skin and nails. Research shows that use of Biotin internally or externally improves hair health — including shine, volume, and scalp coverage for those who experience thinning hair, provide smoothness, and healthy hair.

Keratin – Keratin is the type of protein that makes up your hair, skin, and nails. It works by smoothing down the cells that overlap to form your hair strands. The layers of cells, called the hair cuticle, theoretically absorb the keratin, resulting in hair that looks full and glossy. It also claims to make curly hair less frizzy, easier to style, and straighter in appearance.

Folic Acid -Folic Acid is a water soluble Vitamin B supplement which Stimulates hair growth prevents premature graying, and increases volume and shine in the hair.
How to Use

Pour a little amount of Vitalizer serum in your palm. Rub your hands together and apply evenly on your scalp and hair length. You can use this after every hair wash on damp hair.
Additional Information

Manufactured By - Jain Soap, Santej, Dist. Gandhinagar
Marketed By - Trycone India Limited, Bodakdev, Ahmedabad
Best Before - 36 Months
Net Volume - 100 ml
Country of Origin - India

Disclaimer

Store in a cool & dry place. Keep out of reach of children. Avoid contact with eyes. In case of contact flush with water immediately. Patch test recommended. For external use only.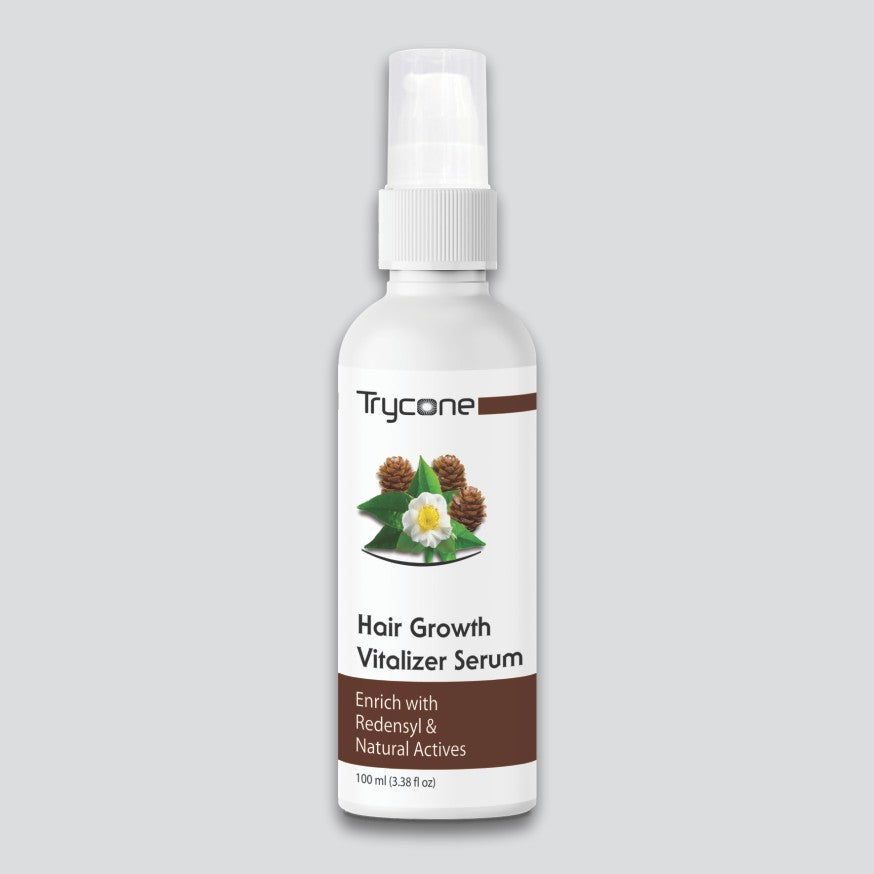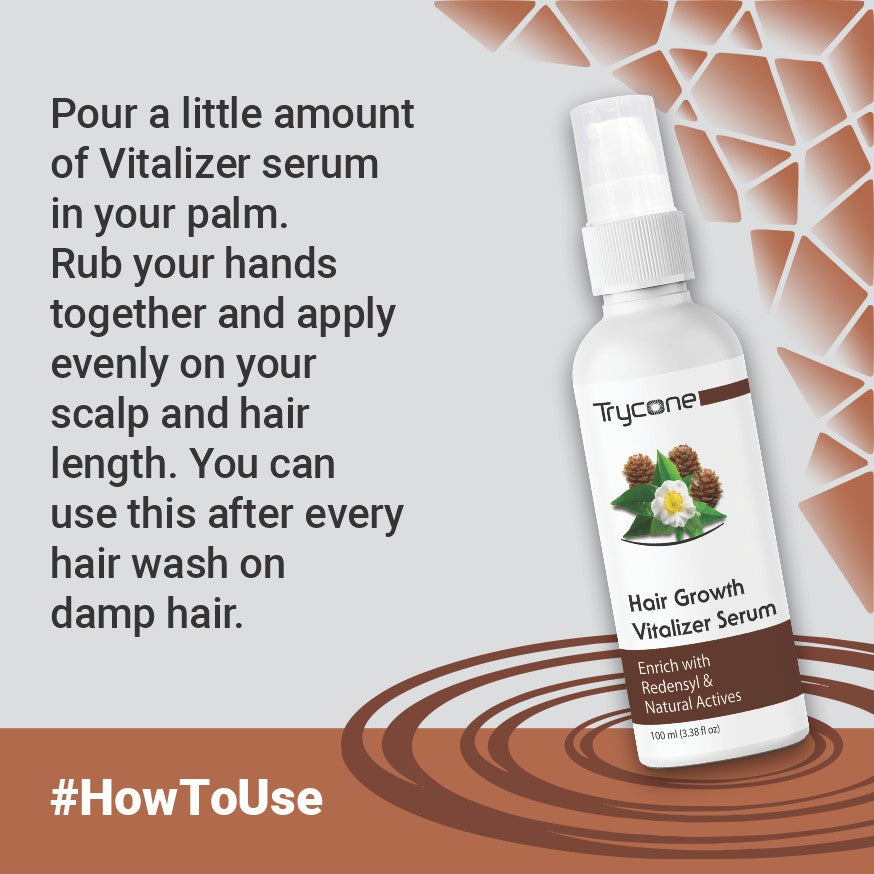 FAQs
Are all the ingredients completely natural?

Our products are formulated with both Scientific and Natural ingredients. And does not contain any harmful chemicals.
Shipping and Return policy

All the orders will be processed within 2 days and will reach the customer in 5-7 days time. Return policy is mentioned in the website.

Do they have any side effects?

All the products are tried and tested and does not have any side effects. Still we recommend patch test before using any products.
How many days until I can see results?

Results may vary from person to person as everybody has unique skin and hair type. Still to see result of any product you need to use it regularly for at least 15-20 days.
Product Benefits

It helps in promoting hair growth, reduce Hair fall, prevents split ends and premature graying of Hair and gives you long, strong and shiny hair.