Cracked Heel Repair Foot Cream - 20 g
Regular price

M.R.P :

Rs. 124.00

M.R.P :

Regular price

Rs. 125.00

Sale price

Price : Rs. 124.00
---
✔ Repair Cracked Heels
✔ Moisturize
✔ Restores Softness
✔ Velvet Touch
✔ Smooth & Healthy Skin

---
Estimated delivery : By -
Description

Trycone Cracked Heel Repair Foot Cream – is formulated with Rose Oil, Urea, Lactic Acid and Natural Actives that are derived from roses, and rose petal extract, which has many natural properties that make it special for rejuvenating and replenishing our skin of feet. It has Anti fungal, Anti- Bacterial, Antioxidant and Anti-inflammatory benefits. That makes this foot cream a complete solution to all problems like swollen of feet and ankles, cracked heels. It also helps in locking moisture in skin making it smooth and healthy. Rose is a natural astringent, so it helps to tighten skin pores and restore suppleness, without drying out the skin.

QUALITY PRODUCT – Made from combination of Rose Oil, Urea, Lactic Acid and other Natural Actives that are Premium quality ingredients without SLS, Paraben & Mineral Oil that'll give you the best quality products.

MOISTURIZE – Rose Oil helps in locking moisture in skin making it smooth and healthy.  

REPAIR CRACKED HEELS – Rose Oil has Anti fungal, Anti- Bacterial, Antioxidant and Anti-inflammatory benefits and kokum butter helps repair dry and cracked heels.

VELVET TOUCH – Rose and Kokum butter together gives your feet a velvet smooth touch.

USAGE -

Easy to use, for all skin types, No Side effects, Unisex (Made in India)

 
Key Ingredients

Rose Petal Extract – Rose Petal extract works as an antiseptic which helps to cleanse skin and prevent blemishes. It also minimizes redness and soothes irritation.

Rose Oil – Rose Oil is a natural astringent, so it helps to tighten skin pores and restore suppleness, without drying out the skin.

Urea – Urea is a natural antibacterial and anti-inflammatory ingredient. It promotes healing, helps soothe the skin, provides relief from dry, itchy skin and making it smooth.

Kokum Butter - Kokum Butter has skin regenerating properties. So it moisturize the skin, improves its elasticity, and protects the skin from losing its moisture

Lactic Acid - Lactic Acid deeply exfoliates the skin and remove dead skin cells from feet. Making them soft, smooth and provide moisturization for long time.
How to Use

Wash your feet tap dry it. Apply foot cream on ankles and feet. Massage in a circular motion. (Repeat this regularly before going to bed).
Additional Information

Manufactured By - Jain Soap, Santej, Dist. Gandhinagar.
Marketed By - Trycone India Limited, Bodakdev, Ahmedabad.
Best Before - 36 Months
Net Weight - 20 gm
Country of Origin -India

Disclaimer

Store in a cool & dry place. Keep out of reach of children. Avoid contact with eyes. In case of contact flush with water immediately. Patch test recommended. For external use only.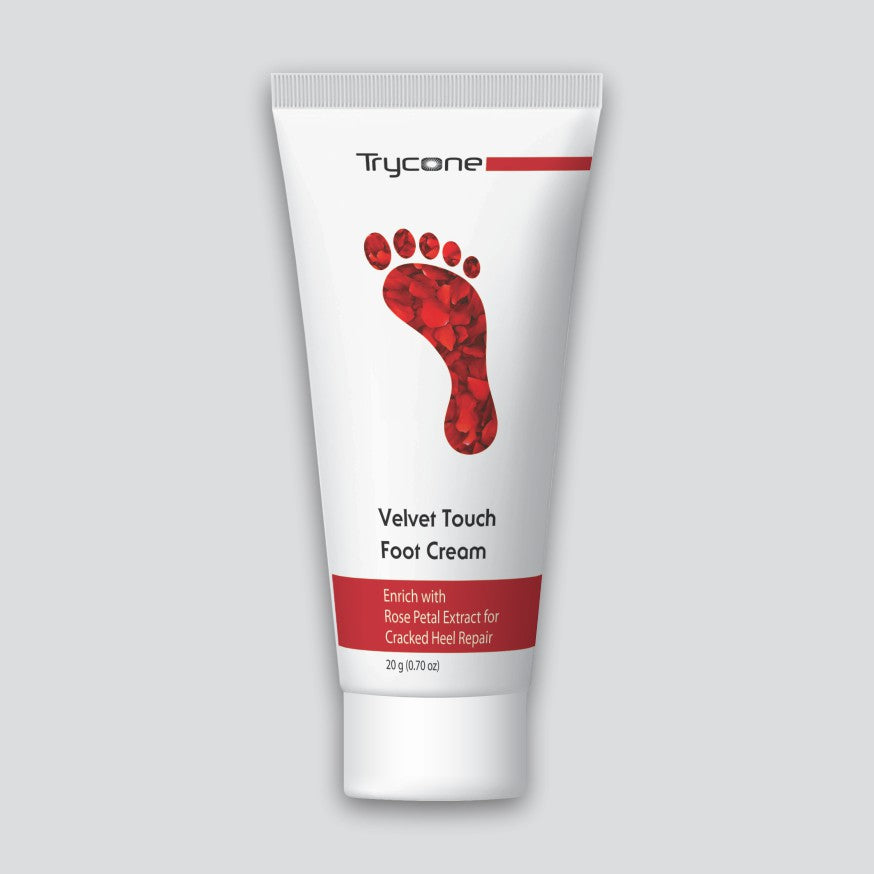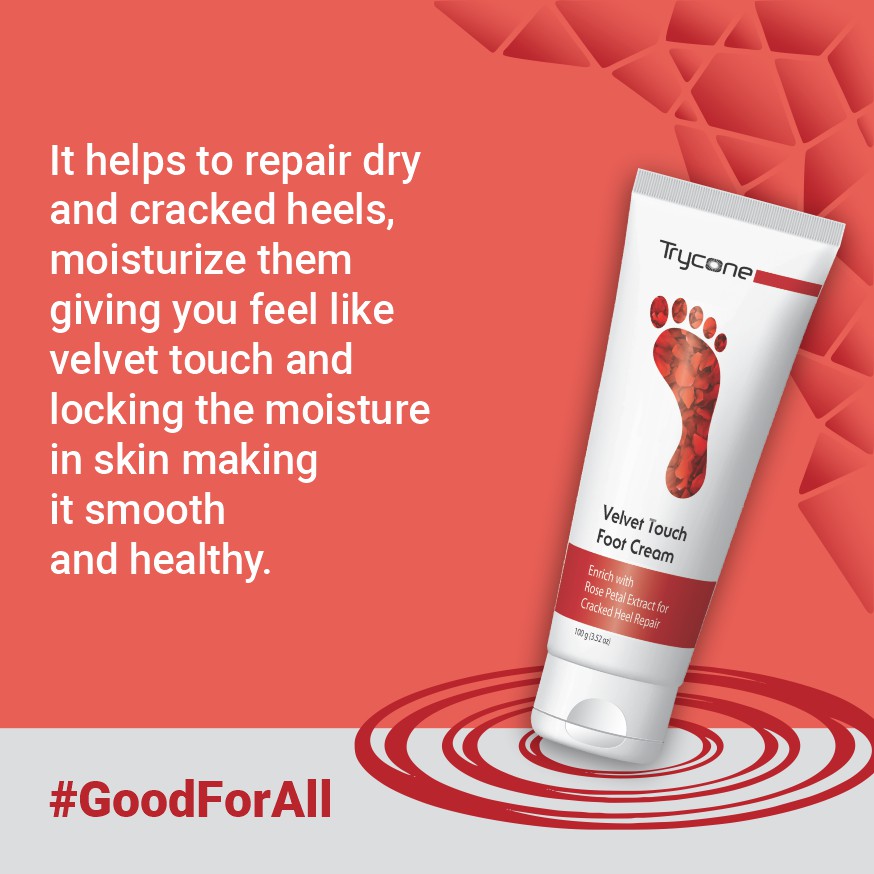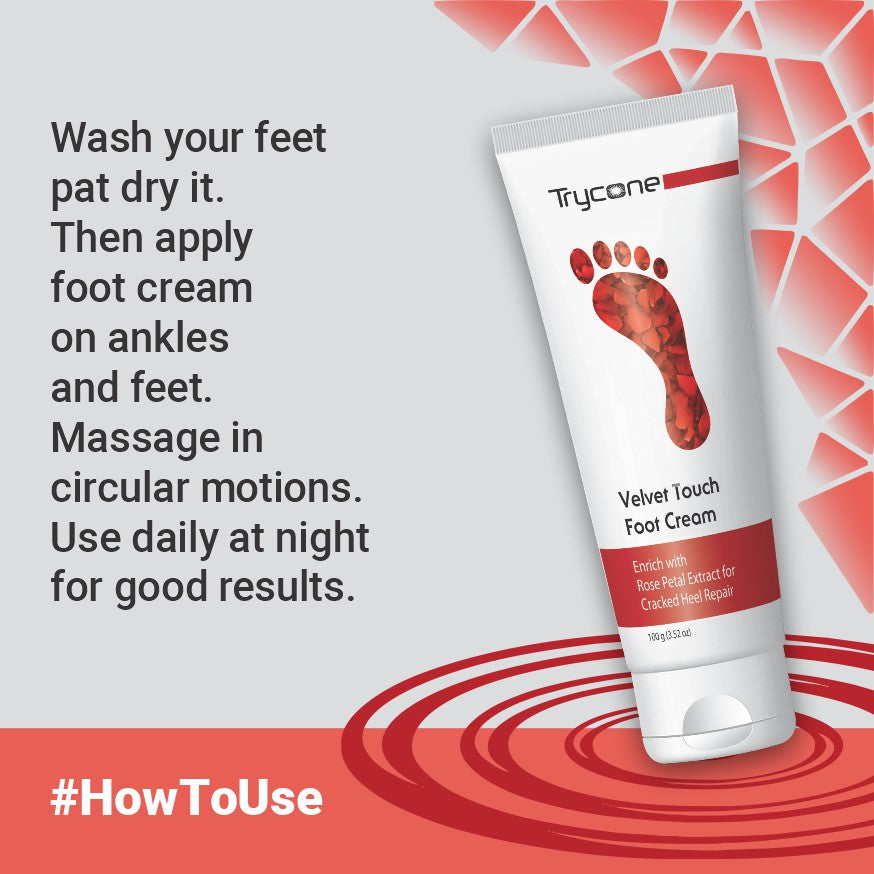 FAQs
Are all the ingredients completely natural?

Our products are formulated with both Scientific and Natural ingredients. And does not contain any harmful chemicals.
Shipping and Return policy

All the orders will be processed within 2 days and will reach the customer in 5-7 days time. Return policy is mentioned in the website.

Do they have any side effects?

All the products are tried and tested and does not have any side effects. Still we recommend patch test before using any products.
How many days until I can see results?

Results may vary from person to person as everybody has unique skin and hair type. Still to see result of any product you need to use it regularly for at least 15-20 days.
Product Benefits

It helps to repair dry and cracked heels, moisturize them giving you feel like velvet touch and locking the moisture in skin making it smooth and healthy.