Hyaluronic Acid Face Serum- 30 ml
Regular price

M.R.P :

Rs. 399.00

M.R.P :

Regular price

Rs. 595.00

Sale price

Price : Rs. 399.00
---
✔ Repair & Rejuvenate Skin Cells
✔ Remove Fine Lines & Wrinkles
✔ Improves Skin Elasticity
✔ Intense Hydrated Skin
✔ Gives Soft & Smooth Skin

---
Estimated delivery : By -
Description

Trycone Hyaluronic Acid serum – is formulated with Hyaluronic Acid, Vitamin B5 and with other Natural Probiotic Actives which help to remove wrinkles, fine lines, repair and rejuvenate the skin cells. Hyaluronic Acid is an excellent moisturizer, makes skin plumpy, reduce the appearance of fine lines and wrinkles. Vitamin B5 helps to keep skin soft, smooth, and healthy. It also has an anti-inflammatory effect that can help stimulate your skin's healing processes. Aquaxyl, the clinically proven sugar moisty can keep skin hydrated for a long time. Natural Probiotic Actives helps to reinforce skin barriers which keeps skin hydrated for a long time. It also increases moisture level of skin, improves elasticity and gives you a youthful, radiant skin.

QUALITY PRODUCT – Made from combination of Hyaluronic Acid, Vitamin B5 and other Natural Actives that are Premium quality ingredients without SLS, Paraben & Mineral Oil that'll give you the best quality products with No Artificial color or Fragrance.

ANTI AGEING – 2% Hyaluronic Acid is an excellent moisturizer and Natural Lavender oil is a great anti-oxidant that protects your skin from free radicals, makes skin plumpy and reduces the appearance of fine lines and wrinkles.

RADIANT & YOUTHFUL SKIN – 1% Vitamin B5 and Natural Rose Oil helps to keep skin soft, smooth, and healthy. It also has an anti-inflammatory and anti- bacterial effect that can help stimulate your skin's healing processes.

INTENSE HYDRATING SKIN – 1.5% Aquaxyl, the clinically proven sugar moisty can keep skin hydrated for a long time. Natural Probiotic Actives and Calendula Extract help to reinforce skin barriers which give your skin intense hydration for a long time.

USAGE - Easy to use, for all skin types, No Side effects, Unisex (Made in India)
Key Ingredients

Hyaluronic Acid – Hyaluronic Acid is the main component of what gives your skin structure, and is responsible for that plump and hydrated look. It is an excellent moisturizer, makes skin plumpy, reduce the appearance of fine lines and wrinkles. And gives you younger looking radiant skin.

Vitamin B5 – Vitamin B5 is a water-soluble vitamin that helps to keep your skin moisturized, hydrated, prevents redness and inflammation, it also has many anti ageing effects and keeps skin soft smooth, and healthy.

Aquaxyl – Aquaxyl is a combination of plant-derived ingredients that target dry and dehydrated skin by improving water circulation and reserves. It is the clinically proven sugar moisty that can keep skin hydrated for a long time.

Natural Probiotic Actives - Natural Probiotic Actives helps to reinforce skin barriers which keep skin hydrated for a long time. It also reduces acne outbreaks; manage dry skin and battles skin ageing.

Calendula Extract – Calendula Extract promotes skin tightness, which reduces day-to-day damage, and it also increases hydration within the skin, which is one of the main ways to prevent signs of aging.
How to Use

Cleanse your face with face wash, pat dry. Take 3-4 drops of serum, apply on face and neck. Massage in upward circular motion. Use twice daily for good results.
Additional Information

Manufactured By - Calistta Healthcare, Changodar, Ahmedabad
Marketed By - Trycone India Limited, Bodakdev, Ahmedabad
Best Before - 24 Months
Net Volume - 30 ml
Country of Origin - India

Disclaimer

Store in a cool & dry place. Keep out of reach of children. Avoid contact with eyes. In case of contact flush with water immediately. Patch test recommended. For external use only.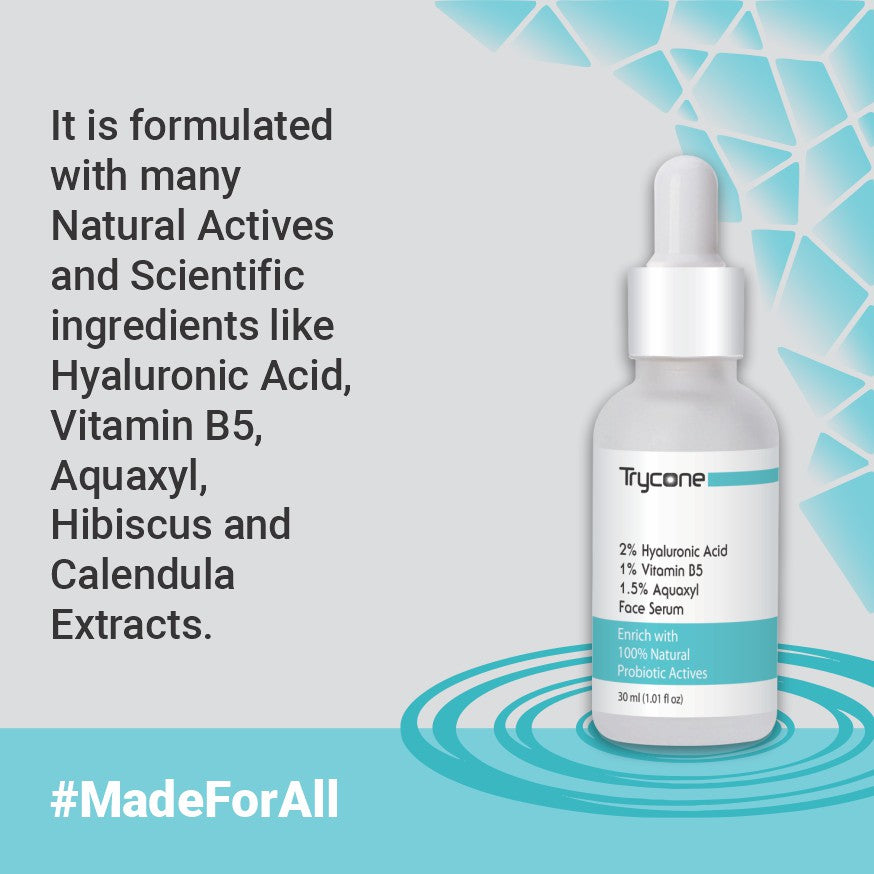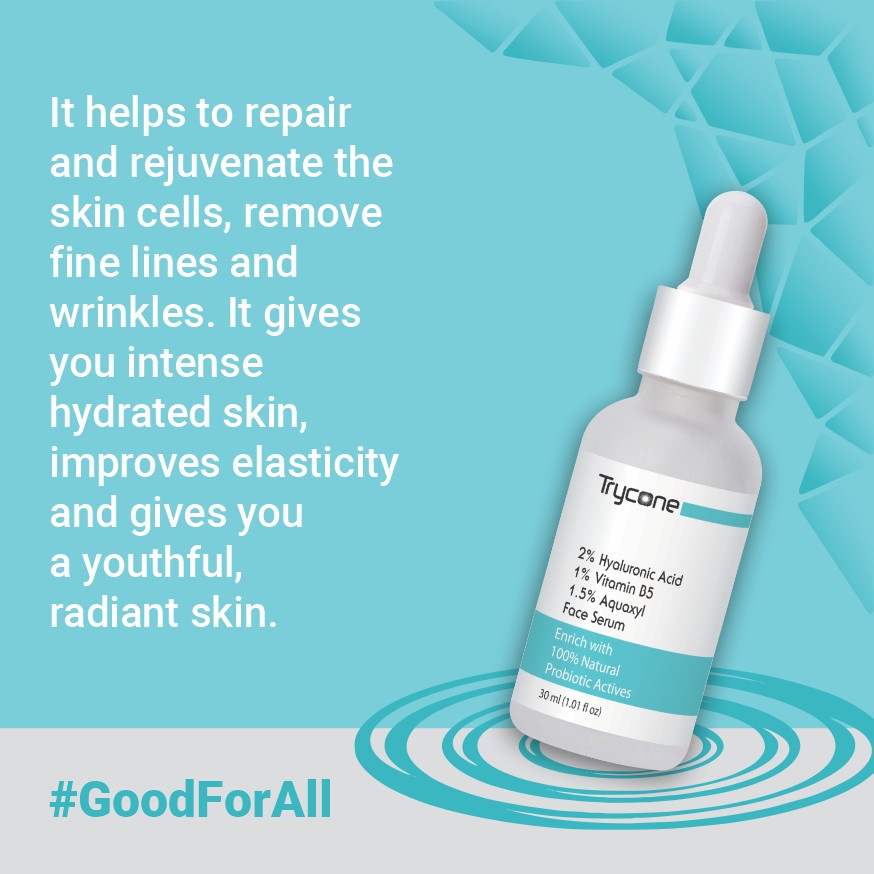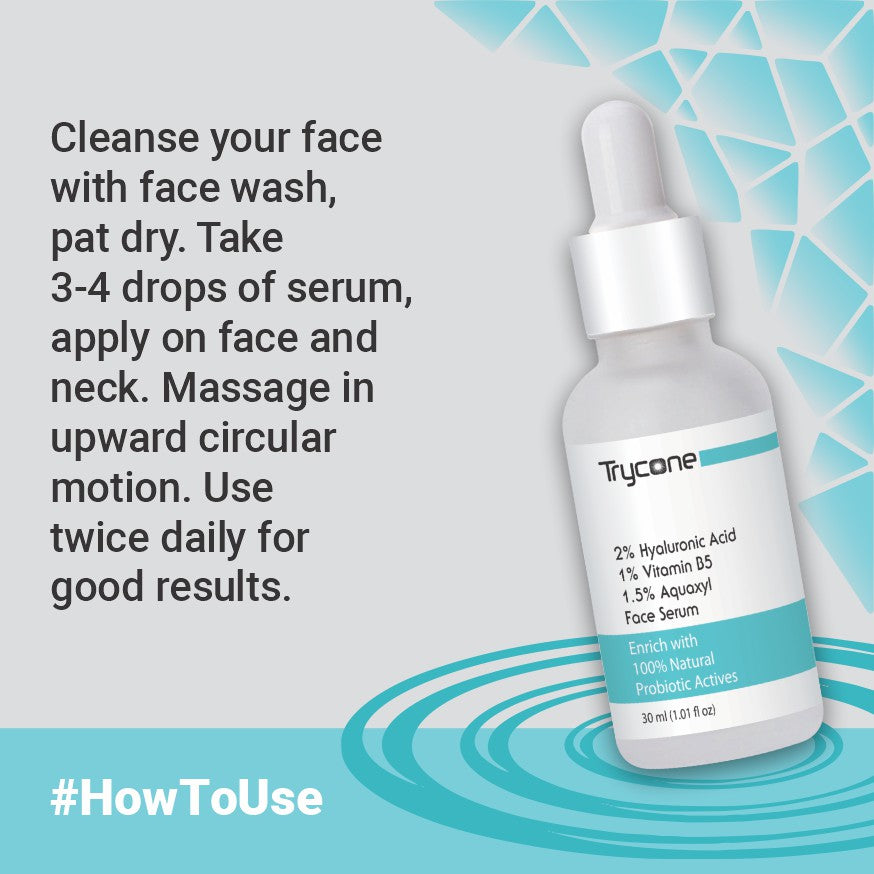 FAQs
Are all the ingredients completely natural?

Our products are formulated with both Scientific and Natural ingredients. And does not contain any harmful chemicals.
Shipping and Return policy

All the orders will be processed within 2 days and will reach the customer in 5-7 days time. Return policy is mentioned in the website.

Do they have any side effects?

All the products are tried and tested and does not have any side effects. Still we recommend patch test before using any products.
How many days until I can see results?

Results may vary from person to person as everybody has unique skin and hair type. Still to see result of any product you need to use it regularly for at least 15-20 days.
Product Benefits

It helps to repair and rejuvenate the skin cells, remove fine lines and wrinkles. It gives you intense hydrated skin, improves elasticity and gives you a youthful, radiant skin.