L- Glutathione Day & Night Cream - 50 g
Regular price

M.R.P :

Rs. 995.00

M.R.P :

Regular price

Rs. 995.00

Sale price

Price : Rs. 995.00
---
✔ Skin Whitening
✔ Remove Dark Spots & Hyperpigmentation
✔ Remove Fine Lines & Wrinkles
✔ Gives You Glass Skin
✔ Regenerate & Repair Tissues

---
Estimated delivery : By -
Description

Trycone L- Glutathione and Vitamin C Skin Whitening Cream for day & night – is formulated with L- Glutathione, Vitamin-C and many Natural Actives which prevents damage from UV rays, regenerate and repair tissues , lightens hyper pigmentation, dark spots, age spots and melasma. It also boosts skin Collagen production that gives you firmer more plump skin and helps to protect skin's natural oils, fine lines, wrinkles and dullness giving you whiter, brighter, Even and Glass skin tone making it look younger.

QUALITY PRODUCT - Made from combination of L- Glutathione, Vitamin-C and other Natural Actives that are Premium quality ingredients without SLS, Paraben & Mineral Oil that'll give you the best quality products.

SKIN WHITENING- L- Glutathione and Vitamin C together controls Melanin and move it from basal layer to the surface. Also prevent damage from UV rays, regenerate and repair tissues, lighten hyper pigmentation. Thus helps in skin whitening.

ANTI AGEING- It acts as anti-oxidant that helps to control fine lines, wrinkles, and dullness of skin, prevents sign of ageing making it look younger.

GLASS SKIN- It helps to protect skin's natural oils, treats acne, gives you exceptionally smooth, even toned, and lustrous skin that's so flawless it has the appearance of glass.

USAGE - Easy to use, fall skin types, No Side effects, Unisex | (Made in India)



Key Ingredients

L-Glutathione – L-Glutathione is an antioxidant produced in cells which helps to reduce the melanin production that regulates skin pigment, improve elasticity, reduce wrinkles and gives the skin its radiance and even tone. It is a detox agent which also helps with the treatment of acne, pigmentation and resolve several other skin problems.

Vitamin C – Vitamin C is an incredible antioxidant, anti-inflammatory nutrient which is known to improve skin tone and texture, hydrate the skin, and reduce signs of aging. Adding vitamin C to your skin care routine can not only brighten your complexion but also protect against skin damage caused by sun exposure and harmful free radicals.

Glycolic Acid - Glycolic Acid helps to penetrate skin deeply and easily, making it the most effective for treating fine lines, acne, blackheads, and dullness. It minimizes the appearance of pores by keeping them clear and helping the surrounding cells to strengthen and regain elasticity.

Bearberry Extract Bearberry extract is a natural skin brightener that'll help us attain a more uniform and brighter complexion. It slowly evens out skin tone by eliminating age spots, acne scars, blemishes and pigmentation.

Licorice Extract – Licorice extract has anti- inflammatory properties and also remove excess melanin production from skin. So it helps to reduce dark spots, pigmentation, soothes irritated skin and gives you even skin tone.
How to Use

Cleanse your face with face wash, pat dry. Take a pea size amount of cream, apply on face and neck. Massage in upward circular motion. Use twice daily for good results.
Additional Information

Manufactured By - Jain Soap, Santej, Dist. Gandhinagar
Marketed By - Trycone India Limited, Bodakdev, Ahmedabad
Best Before - 36 Months
Net Weight - 50 gm
Country of Origin - India

Disclaimer

Store in a cool & dry place. Keep out of reach of children. Avoid contact with eyes. In case of contact flush with water immediately. Patch test recommended. For external use only.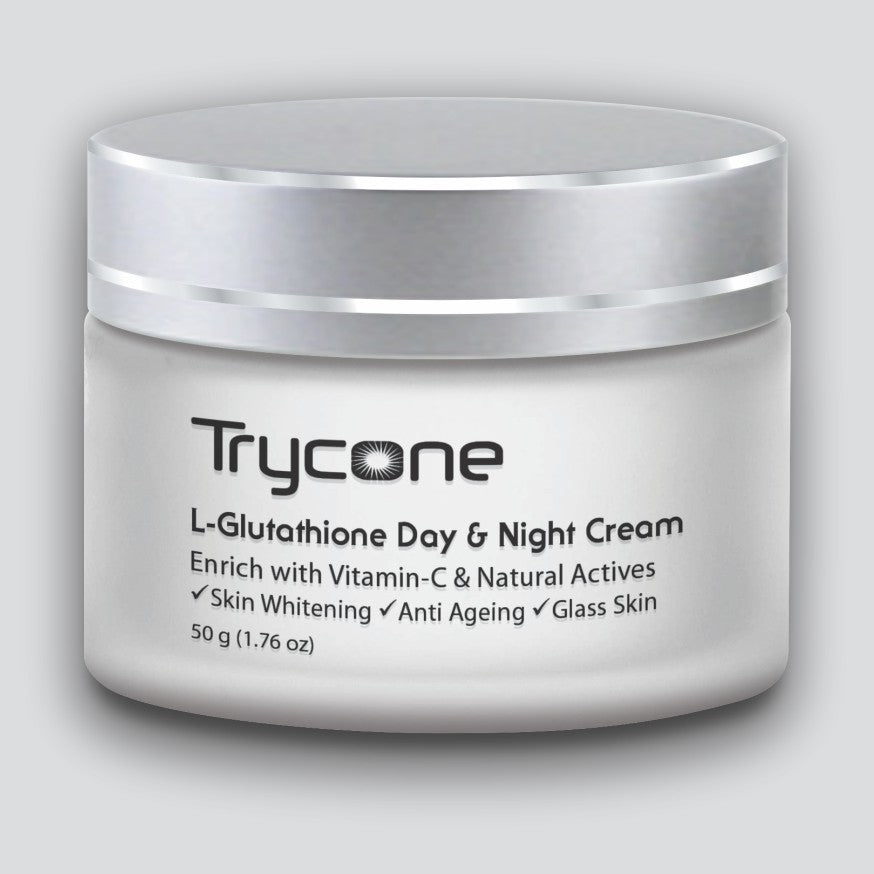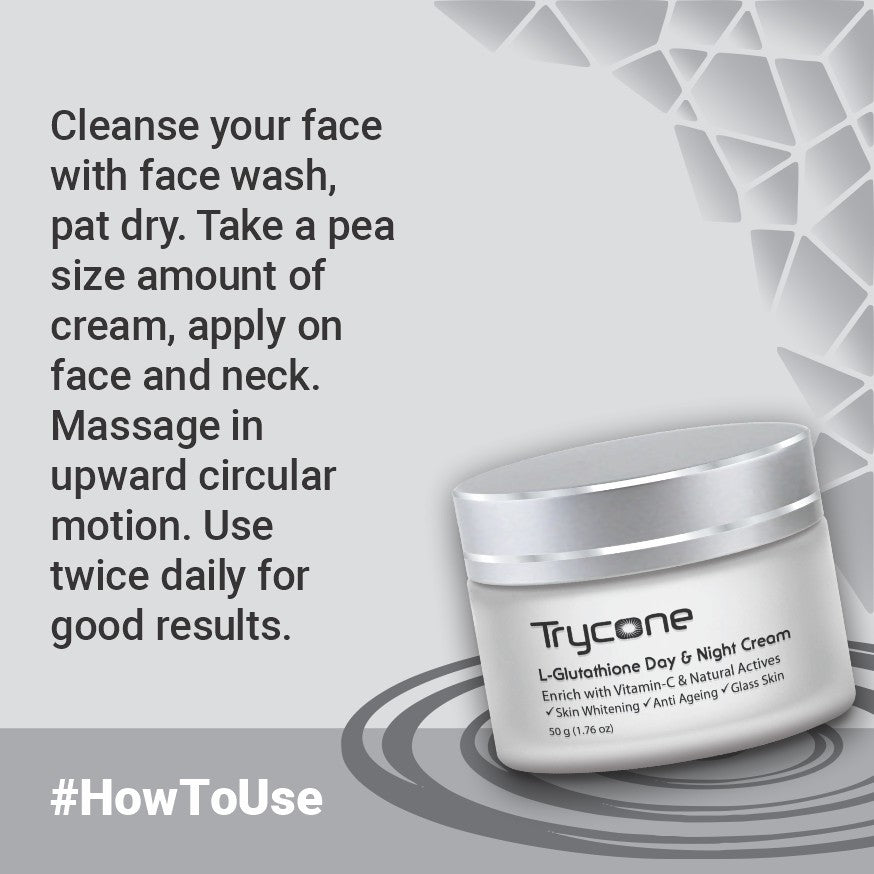 FAQs
Are all the ingredients completely natural?

Our products are formulated with both Scientific and Natural ingredients. And does not contain any harmful chemicals.
Shipping and Return policy

All the orders will be processed within 2 days and will reach the customer in 5-7 days time. Return policy is mentioned in the website.

Do they have any side effects?

All the products are tried and tested and does not have any side effects. Still we recommend patch test before using any products.
How many days until I can see results?

Results may vary from person to person as everybody has unique skin and hair type. Still to see result of any product you need to use it regularly for at least 15-20 days.
Product Benefits

It helps to prevent damage from UV rays, regenerate and repair tissues, lightens hyper pigmentation, dark spots, fine line and wrinkles giving you whiter, brighter, even and Glass skin tone making it look younger.